Discover more from Kirill V Journal
Follow my Designpreneurship journey and learn with me. Ideas, frameworks, and experiments for Designers determined to become independent from paycheque and location.
🇨🇭 Trip to Switzerland
First, and definitely not the last. We fell in love with this country.
This was our vacation trip to celebrate the 2023 New Year.
PS: some email clients may cut the email due to its length, you can always find the full post on my website.
Key Observations
It felt very safe everywhere we went.

Everyone we spoke with could speak English. Noticeable contrast comparing for several places we've visited in Germany, France, Portugal, and of course, Luxembourg.

The country has a very positive and comfortable vibe everywhere. Not sure how to explain, but it felt good. Even on the roads, it felt that other drivers are not rushing and not pressuring others to drive faster (in contrast to Luxembourg).

Not news, but it is more expensive even than Luxembourg. I would not say it's extreme, but more expensive, for sure.

Not news, but nature is truly spectacular in many places. We didn't even get to visit the mountains in the South, but we got close to them, and they are unforgettable.

Drinkable tap water in restaurants, comparing to Luxembourg, where you don't have an option to get free tap water.

Many houses in the countryside have unique roofs, never saw this kind of shapes before.
Accommodation
As usual, we were booking it a couple of weeks in advance 🤦‍♂️. Most hotel options were not available, others were either in the suburbs or ridiculously expensive. Eventually, we found a decent hotel in a central location that allowed us to use it as a base to explore different Swiss regions (Centre, East, and West) with not as much driving - Mövenpick Egerkingen Hotel.
One of the best features of this hotel was the breakfast. This was easily in the top 2 of all hotel breakfasts I've ever experienced (and I stayed in a lot of hotels). Variety of fresh delicious bread, fruits, cheeses, and much more. Also, Prosecco for breakfast?? 😜
One strange thing I noticed: Oreo cookies were placed individually in glass mason jars. A god-like desert? 😆
Itinerary
Day 1: Thun, Interlaken, Lucerne
We got our first impressions of the Alps in Thun. Unbelievable power of the mountains next to a lake. Absolutely adorable steam-powered boat looked surreal with the mountains in the background. Lakes have unforgettable turquoise colour, though not as unique feel if you had a chance to see mountain lakes in Canada (we did). Still nice 😊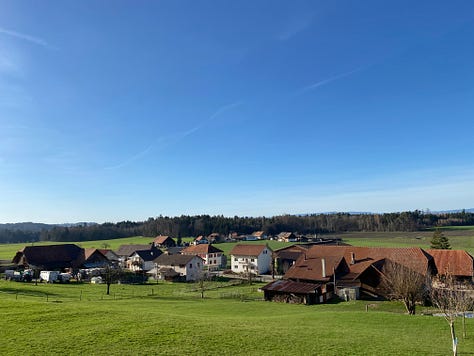 Day 2: Zurich
We spend the New Years eve here, though we couldn't wait till the midnight and fireworks, we managed to witness the sunset and the evening lights.
Zurich left a good impression, very clean, cozy historical centre, cure trams. We enjoyed their street food with mulled wine (though it wasn't amazing =), champagne, and snacks.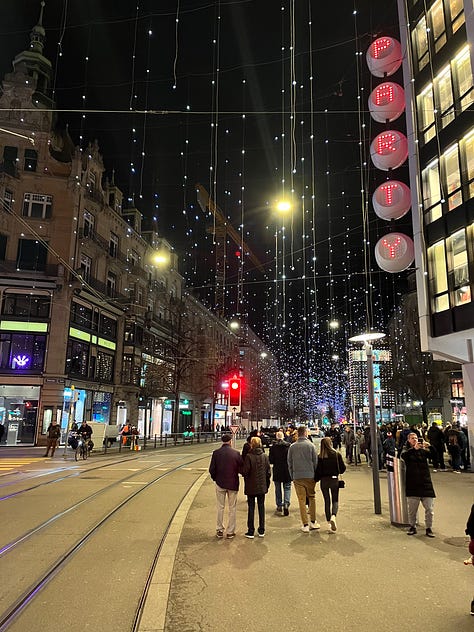 Day 3: Bern, Murten, Montreux
Amazing view from the hill in Bern, didn't want to leave that spot, very picturesque.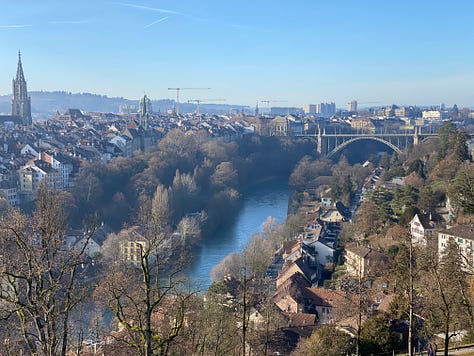 Murten had a very unexpected beach town vibe, probably will be even more so during summer.
Montreux was the winner of this whole trip - a truly unique place with such a calm and comfortable atmosphere, I can't really describe our experience. It is known for the Queen recording studio and some other musicians and writers, who found this place very inspirational.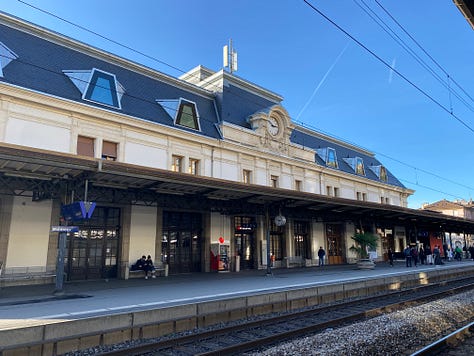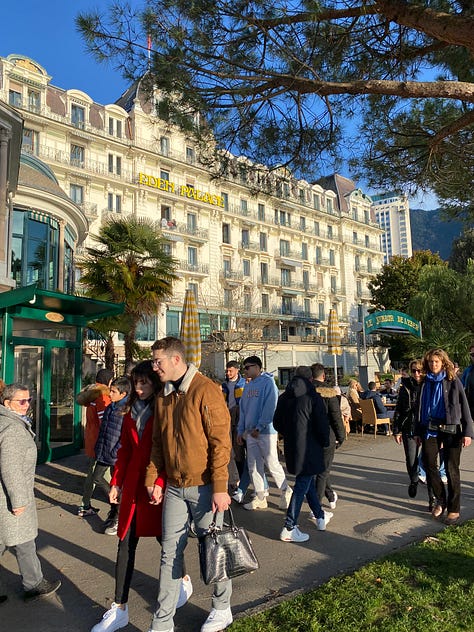 Switzerland - highly recommend.